The Solopreneur Collaborative

A creative fusion of coaching, resources,
accountability, and community for female solopreneurs


Are you a female solopreneur that has transitioned from being an employee to becoming your own boss?
Are you wondering why you're struggling with some of the same stressors that made you decide to become a solopreneur in the first place?
Do you find yourself feeling so overwhelmed and stressed that some days you lose sight of the vision for your new life that excited you so much before you made the move?
If so, I feel you.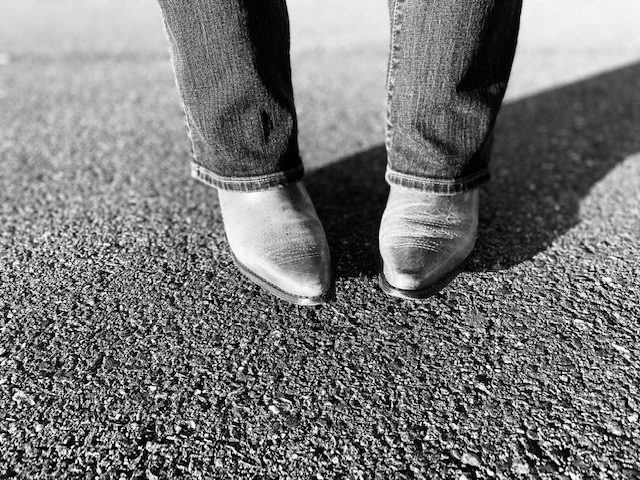 There's a reason we're called "SOLOpreneurs."

If that sounds like a lonely word, that's because it can be lonely (and stressful) when you:
have to do everything by yourself;

know that you're making decisions without the benefit of another set of eyes and ears;

take care of yourself in addition to caring for your clients, prospects, and family;

ignore the hype in order to market your products or services authentically and organically,

and so much more.
Would you believe me if I told you that you don't have to go through it all alone?
It's true. You don't.
The Heart-Centered Solopreneur Collaborative is here for you.


Solopreneur: one who organizes, manages, and assumes the risks of a business or enterprise without the help of a partner

****

Collaborative: an organized group of people or entities who
work together to achieve a common goal

***

Heart-centered: running every part of your business (and your life) in alignment with your core values.


While I was thrilled to start my own coaching and consulting practice after being an employee for several decades, I struggled in those first few, long months in ways I didn't anticipate.

As I started working with more and more women who were on the same journey, I realized that an opportunity existed for me to help them bridge the gap, to move from where they were to being firmly on the path toward where they wanted to be in a way that was much easier than my journey had been.

That's why I created The Heart-Centered Solopreneur Collaborative.



MY MISSION

To help women step boldly and confidently into their vision of being heart-centered solopreneurs who demonstrate that owning a business can be kinder, gentler, more profitable, and more fun than we've been led to believe.

VALUES

Integrity

Alignment

Exceptional client support

Positive energy

Authenticity

Creativity

Continuous improvement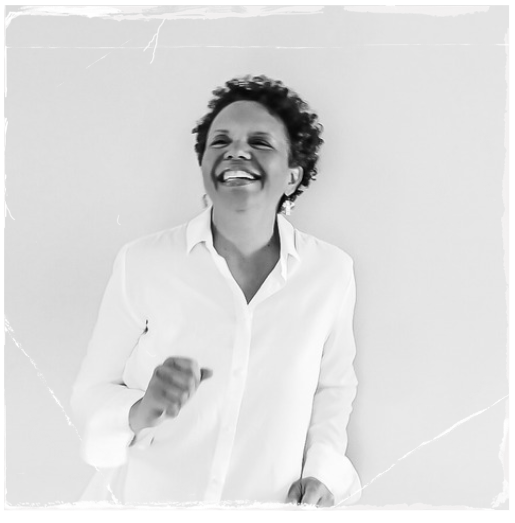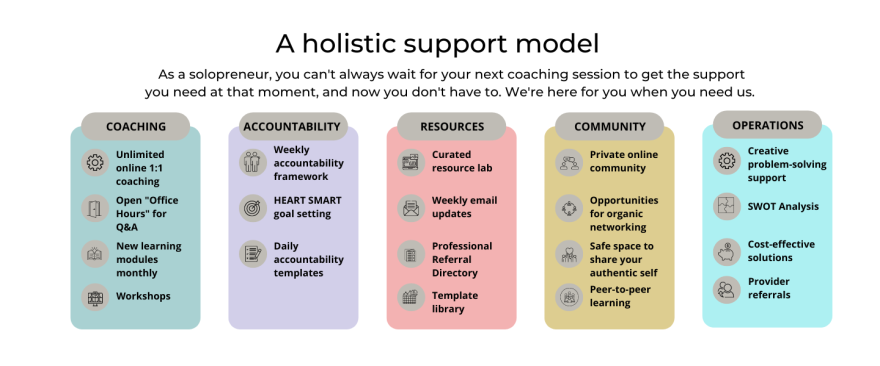 You probably already know that being successful as an employee doesn't guarantee success as a solopreneur. It helps, but it's not enough. In addition to changes in the nature of the work, whether you're in the same industry or a different one, being a solopreneur requires a different mindset.

The differences between being an employee and a solopreneur may seem subtle, but for those of us who've made the transition, we know that they're HUGE!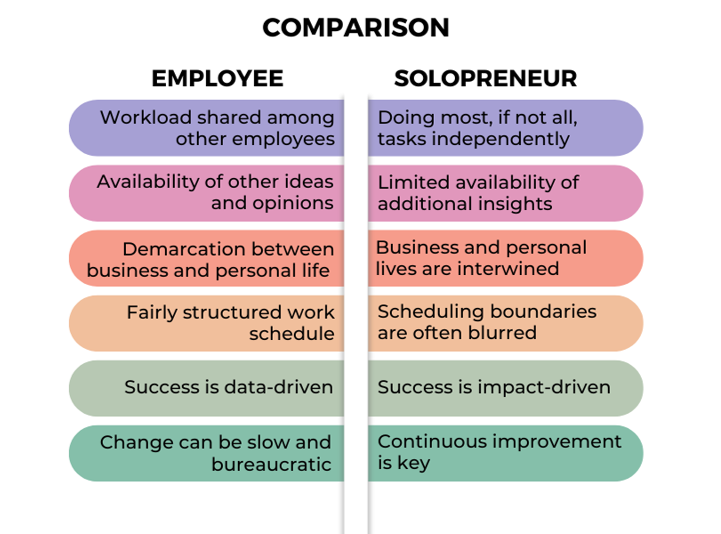 The mindset shift from employee to solopreneur is significant in the best of circumstances but can be particularly challenging if you walked away from your "day job" feeling burned out, beat up, undervalued, and underappreciated. It's not uncommon for self-confidence and self-worth to take a hit. It can take time, grace, and support to recover.
Wherever you are on your solopreneurial journey, The Heart-Centered Solopreneur Collaborative is here to support you. Our integrated and integrative process covers the basics to provide a strong foundation for managing and growing your heart-centered business.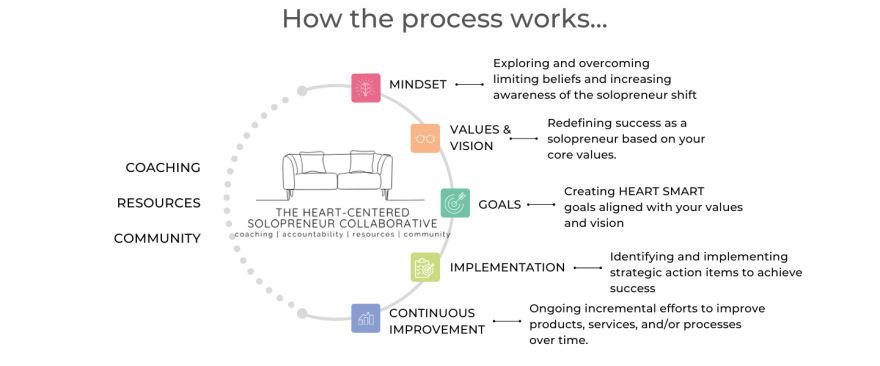 The Heart-Centered Solopreneur Collaborative is a safe and supportive program designed to:
help you take a step back, dig deep, and honestly assess where you are professionally and personally;


create a heart-centered action plan to bridge the gap from where you are to where you want to be;


work hand-in-hand with you to brainstorm, provide another set of eyes on important documents or content, and find creative solutions to business challenges; and


implement your business strategy in a way that integrates an accountability structure to help you stay focused and on track.


As a member of the Collaborative, support is available to help you:


align your values and vision;
expose and overcome limiting beliefs that may be keeping you stuck;
create HEART SMART goals;
replace unhealthy work habits from your previous career that no longer serve you as a heart-centered solopreneur;
identify strategic action items to help you achieve those goals;
gain confidence by clarifying who, how, and most importantly WHY you serve the people you do;
be accountable to yourself and to your colleagues in the community;
learn from and share with others on a similar journey;
develop meaningful connections and identify opportunities for strategic collaborations (pun intended); and
re-energize your business and your life.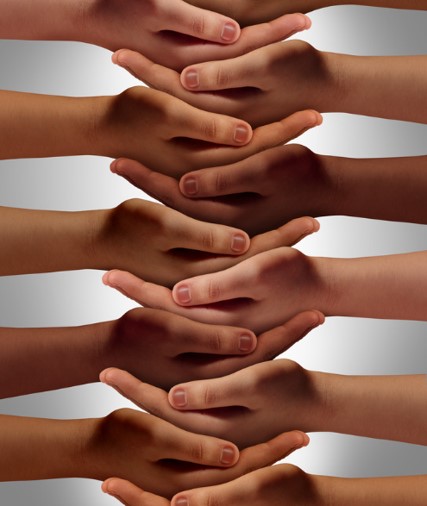 Can you continue to go it alone? Of course you can, but I have to ask... how's that been working for you? My guess is that the reason you're still here is that there's not enough time in the day for you to do everything you think you need to do by yourself.
So, the real question is why would you when you don't have to?
This is what my best clients have in common:
They are heart-centered, spiritual solopreneurs who have a passion for service.


They have a burning desire to learn new strategies on how to bring more peace, joy, and abundance to their life.


They are committed to self-awareness, self-care, and nurturing their relationship with themselves, their clients, and those around them.


They are willing to challenge traditional, largely patriarchal, business models by exploring new ways to work smarter, not harder, resulting in less stress and more joy.



They are open to the concepts of intuitive guidance, manifesting, the law of attraction, and expecting miracles for themselves and others.
My intention is for The Heart-Centered Solopreneur Collaborative to be a community of women who bring the same positive energy, heart-centered focus, commitment, and passion for their professional and personal lives as well.

Does this sound like you?

What my clients are saying...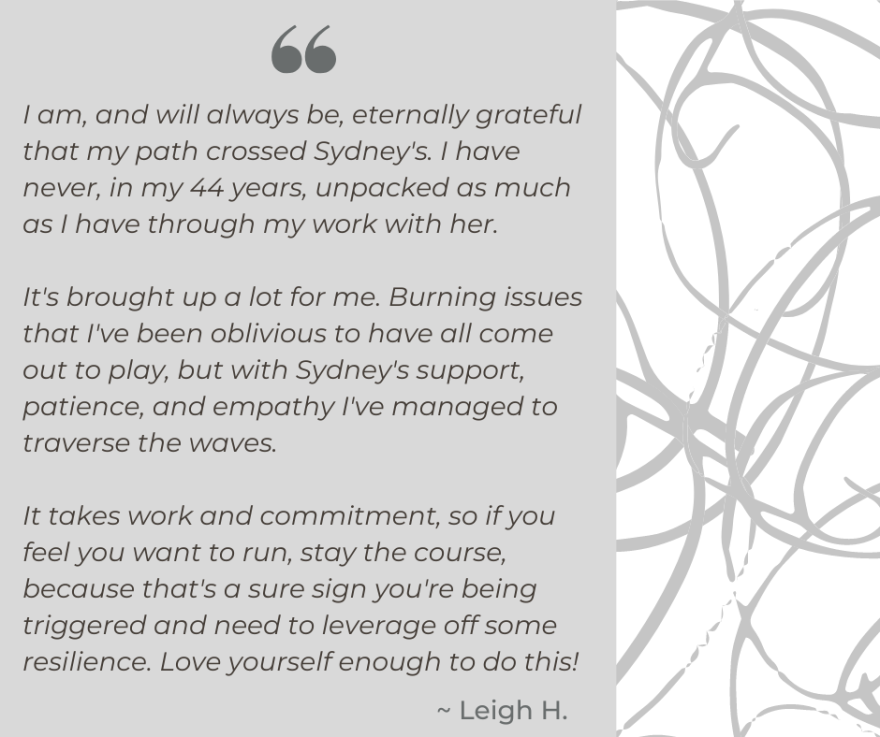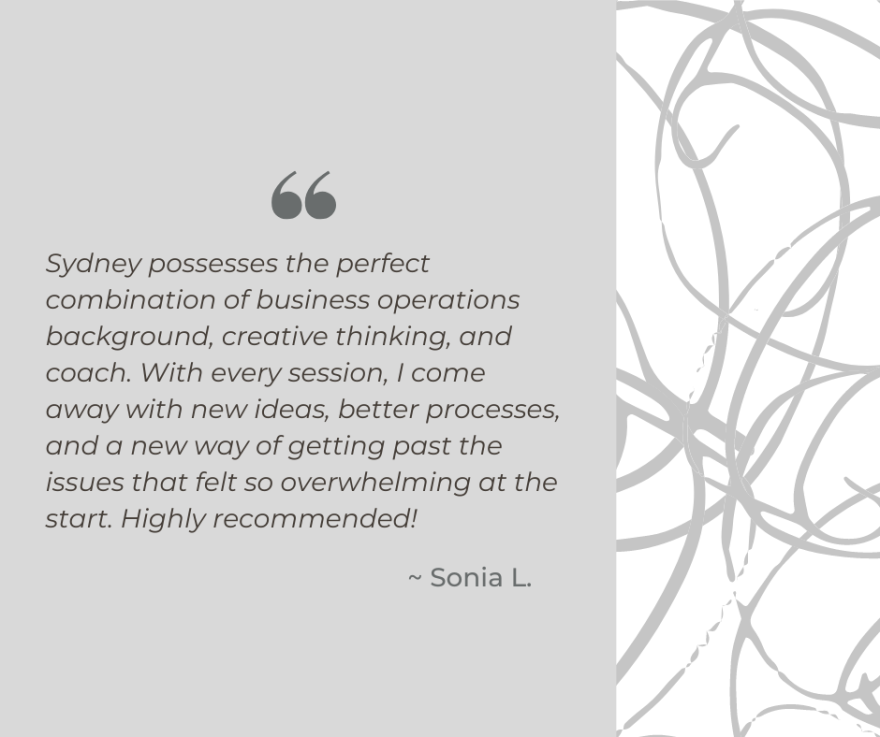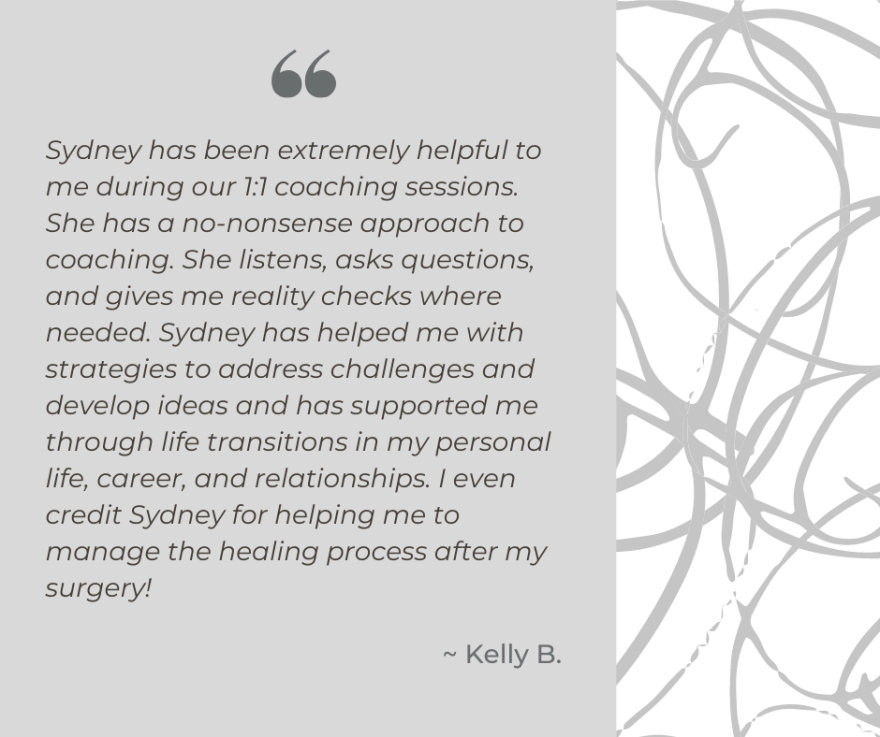 Are you ready to invest in yourself and your business by joining The Heart-Centered Solopreneur Collective?
If so, now's the time to take action!

Simply click on the link below, answer a few basic questions to help us decide if it makes sense for us to chat, and if it does, let's schedule a call!